The importance of bank reconciliation
Bank reconciliation plays a pivotal part in the monthly accounts of any company, large or small. Ensuring your bank is reconciled with your accounting package every month is on the top of every bookkeeper and accountants checklist and should be on yours. Making sure your accounts package reflects all payments and receipts passed through your business bank account is the cornerstone of good accounting practice.
SME's and Freelancers and, depending on what type of business you operate have the opportunity to base their accounts on what is termed as 'Cash Accounting'. This is when you only process costs when you have paid for them and sales when you have received the payment.
This makes for completing a bank reconciliation crucial as their VAT Return will be based on all of these transactions as they will be shown on the bank statement.
Larger companies adopt the Accrued Accounting method which is based on invoice date so, irrespective of whether the invoice has been paid or not they are entered onto the accounting system when the transaction occurs and likewise with sales all driven by the date of the transaction. These items are then paid at a later date based on credit terms given to you by your suppliers and your sales transactions paid based on the credit terms you allow for your customers.
As for the VAT Return this is then based on what is termed as Standard Accrued VAT, pulling together all sales and costs irrespective of payment date the vat is then accounted for. However, larger companies will still complete a monthly bank reconciliation as part of their management accounts package as this is an integral part of monthly management controls.
All banks offer the ability to download your bank statement online, whether that's in the form of a pdf or a spreadsheet.
The reconcilation process
If you download as a spreadsheet you can then, depending on your accounting package import this or, you may have the ability to directly feed your bank statement into your accounts package.
This will allow you to check the entries you have already created within your accounting system and match to your statement and, in the event that an entry has been missed you can create entries based on the bank statement.
Your bank statement will show you the date of the transaction, the description, this could be the name of the company you have paid if you've created a bank transfer or if you are still using cheques which some UK companies are it will show the cheque number. It will then show the amount and depending on whether it's coming out of your account as a payment or coming in as a receipt and then the balance. The balance will be shown as the end of each day.
Below you can see an example of a bank statement import into Reviso, the bank statement transactions are listed on the right and the corresponding system entries generated by the user on the left with the amount due to be reconciled highlighted…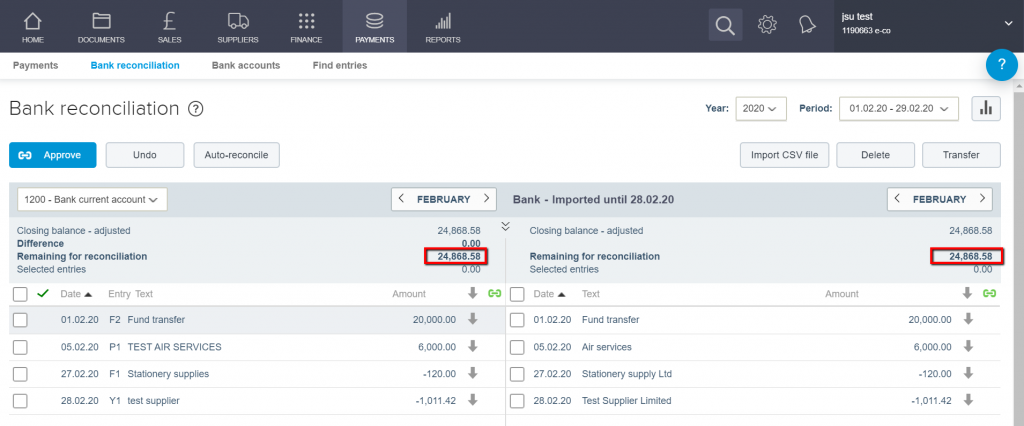 The date of the latest bank statement import is shown and the matching entries can then be ticked and approved…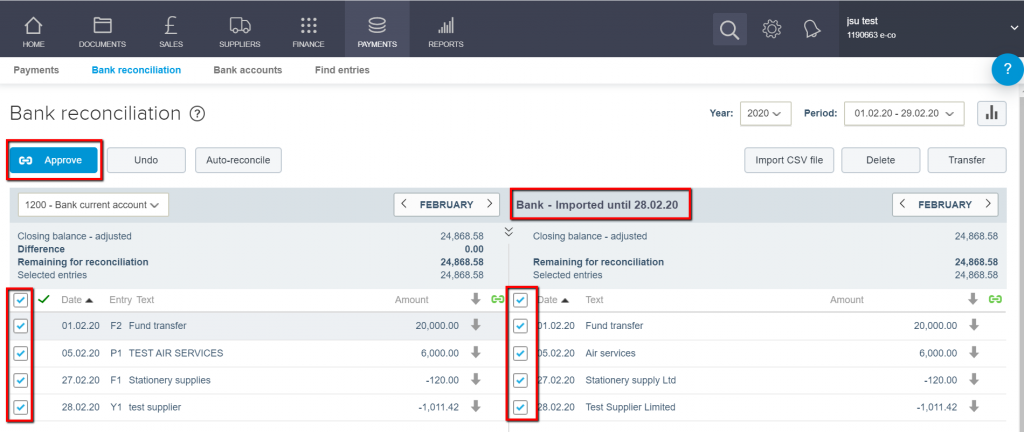 Should you wish to learn more about bank reconciliation in Reviso you can take a look at our online help section covering this.
Most companies check their bank accounts daily to track funds coming in and going out, should you ever seen any transaction appear on your bank statement that you are unsure of you should contact your bank immediately.