With more and more of us working from home as the new normal, online support in today's world is so important and using online capabilities is now an essential part of any process especially in our working environment.
To achieve uninterrupted workflow having good online support is paramount in promoting this and, as more of us are working from home the timings of our working day may change. Juggling family life while working has its challenges and even more so with current restrictions, getting the support when needed is so important.
Using the search facility within our online help you can then see various options relating to your query, guiding your through the process with text and screenshots. Our online help contains a vast amount of information from setting up your Reviso system for the first time, sending out your first invoice, reconciling your bank account and sending out your MTD VAT Return online direct to HMRC.
Common support questions
Below are listed just a few of the common support questions which are all covered within our online help including the link through to the relevant section which you may find useful…
How do I create/close my financial year?
To create a new or close an existing financial year you will need to go Settings > Finance > Accounting Years. If you click on New Accounting Year it will prompt you with dates that follow on from your previous years or, if you're creating one for the first time you can edit the date parameters and save. To close simply click on the icon far right, if you have any unbooked entries these will need to be booked/posted prior to closing and your new financial year will need to created.

How do I import my bank statement?
Importing your bank statement enables you to not only reconcile entries you have already entered but allow you to post direct from your bank statement.
How do I correct a booked entry?
There are several ways you can correct a booked/posted entry, depending on what area you wish to change and what type of entry you need to modify, if it's a supplier invoice, manual customer invoice or journal entry you can change the text and the account number it's been charged to by editing the entry or if the entry has been booked you can reverse the entry by clicking on the far right icon, this will create a correcting entry which can then be booked, you can then create the entry correctly.

How to create a contra entry between a customer/supplier balance?
If you have minor under/over payments on either your customer or supplier ledgercards or you wish to contra an entry between a supplier and a customer these can easily be handled within your accounts, to do this you can follow are online support article on how to do this.
You will need to create a new Bank Account in order to process the amounts and use a write off account such as this, in a default chart of accounts this is account 8100…once created you can post to this account.
How do I find an entry I've already booked?
If you need to find an entry you can use the search field within Payments > Find entries > here you can search on date, amount and even text. You can also drill down the search criteria to the type of entry via the Number series box…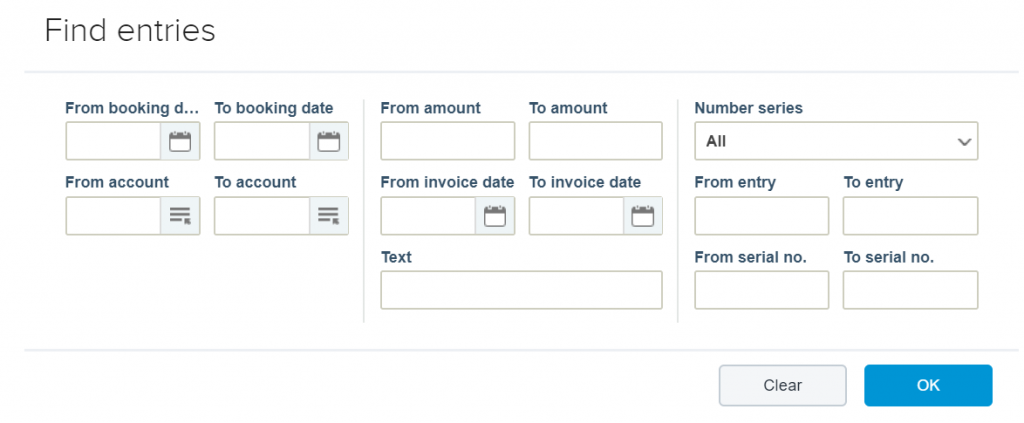 You can select which entry type you wish to find by ticking the relevant box this will speed up your search….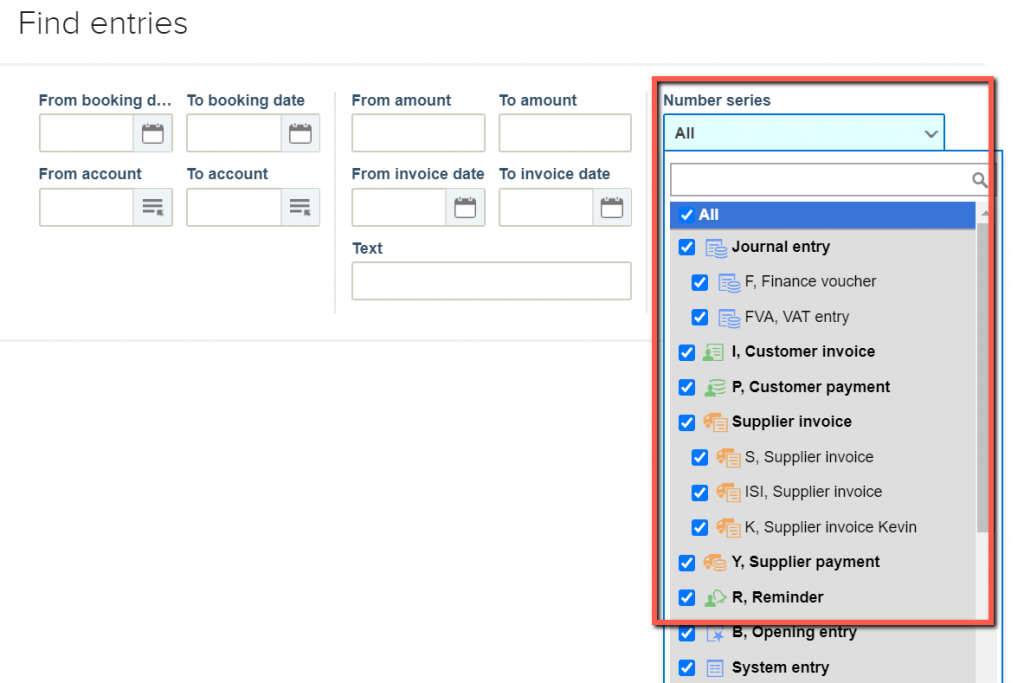 How do I change my company details?
If your company details change in any way you will need to amend these and this can easily be achieved within Settings > Company Information. This is a very important section as it also contains your VAT Registration and without this being entered correctly, for example no prefixes so if you have your registration prefixed with GB this needs to be removed otherwise you will not be able to submit to HMRC and your return will be rejected.
I've got items showing as outstanding on my 'Home tab' but they have been paid?
If you have sales invoices showing as outstanding on your Home tab but you've processed and booked the payment then it's because the invoice has not been matched with the payment. Go to Sales > Customers > locate the icon Open entries far right and match your entries. The invoices will then clear from the home tab. This option is also available to match supplier invoices with payments.
How do I complete and send my MTD VAT Return direct to HMRC?
Your MTD VAT Return can be completed and filed direct from Reviso to HMRC. Standard, Cash Accounting and Flat Rate Schemes are all fully HMRC compliant within Reviso and can be run and filed leaving a copy of your submission and confirmation with all the relevant data for the return flagged and easily accessible should you need to refer back. A step by step guide can be found within our help section, How to complete and file my VAT Return.
Our online help is designed to assist you whenever you are in the system. If you're unsure or cannot find what you're looking for within our online help you can always call our support line on 08456 800 473 and we will be happy to assist you.