Correct management of a business implies being aware of a multitude of tasks that are all of equal importance, such as accounting of operations, proper implementation and management of taxes, controlling, a functioning business plan or the control of due claims. These tasks include output tax (tax on sales invoices), input tax (tax on supplier invoices), such as VAT returns, year-end closing and opening balances. 
Fortunately, accounting and management programs are able to automatically take into account the closing results and the opening balances for the new financial year. Today's software can make sales tax bookings with virtually no user intervention. However, it is important to know the process of these bookings in order to understand and verify them.
How do I book sales tax?
By default, Reviso already associates VAT codes with accounts and products. But what does it mean for the creation and booking of incoming and outgoing invoices?
customer invoice
When creating the customer, you assign the customer to a customer group, this is linked to VAT account. Also, for each customer, select the VAT zone , which is divided into four categories: domestic, EU, foreign (third country outside EU), and domestic excluding VAT. As a result, the system knows which sales tax the invoice will be calculated for outgoing customer invoices.
In the next step, we look at the products. When creating products, you specify the net price and assign the products to a product group. Under Product Groups, you can see which income accounts are stored in the respective VAT zones. Please check that the correct income accounts have been entered for the relevant VAT zone. The income accounts are in turn linked to the VAT codes to get the correct sales tax. If the VAT codes or revenue account are not assigned correctly, you can edit this in your master data.
Example: You create a UK customer and link this to the domestic VAT zone. When invoicing, add the products sold. By correctly assigning the product group to the revenue account and the VAT code, Reviso automatically recognizes that 20% VAT will be charged to the customer and added to the invoice. When you post this invoice, you automatically create a posting to the revenue account and a posting to the VAT account.
supplier invoice
Suppliers are also assigned to supplier groups, which in turn are linked to a control account. When posting vendor invoices, you can already see from the invoice received which input tax you need to pay. This will allow you to enter the gross amount and add the appropriate VAT code.
Example: You receive an invoice from your telephone service provider for the amount of £120.00 including 20% VAT. Now create a supplier invoice entry with £120.00 as gross amount in your Reviso bookkeeping, enter an expense account and add a VAT code, eg Telephone costs, the vat code of P-STD (purchases standard VAT) will appear. As a result, £100.00 will automatically be posted as an expense to the telephone account and 20% input tax to the VAT account.
VAT Return
Reviso offers you the functionality to send your VAT Return directly to HMRC via an integrated HMRC MTD interface. Through the booked incoming and outgoing invoices, Reviso calculates the received sales tax and the paid input tax against each other and passes this on to the tax office.
When you run your VAT Return you can setup (if you haven't done so already) a VAT settlement account. This will automatically post the input and output amounts to the relevant codes within your chart of accounts.
So if you see this highlighted message below when you are ready to submit your VAT Return, you can cancel out of this screen…..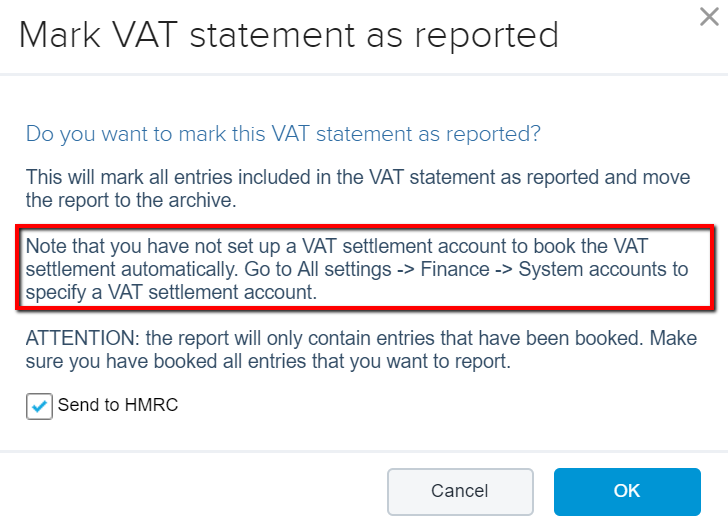 Go to Settings > All settings > Finance > System accounts > you will see the line for 'VAT Settlement Account' click on the edit icon to the right, in the Account box select the VAT Paid account from within your Chart of accounts, tick the box for automatic booking and then select the date you wish the entry to be booked. This will then post the entries of your vat return for you.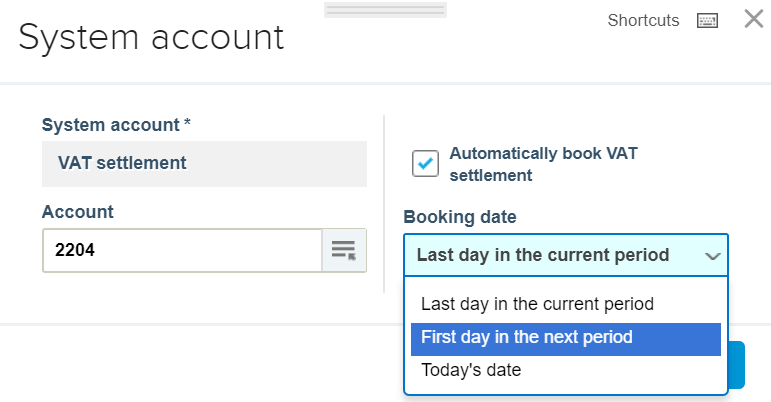 Should you need any assistance please don't hesitate to contact our support team at help@www.reviso.com or you can call us on 08456 800 473.