At Reviso we are fully committed to cloud software and we have selected Microsoft Azure as an open and flexible partner to provide our customers with an open, efficient and collaborative accounting platform.
On September 12, Microsoft Azure sent out this tweet: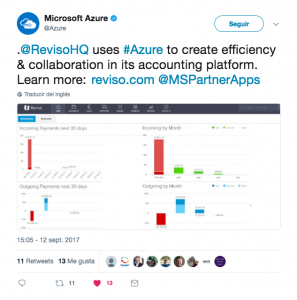 Starting from September, we have entered the Microsoft App Catalog, granting more than 40, 000 Microsoft field sellers the ability to promote the Reviso Accounting Platform.
As we continue to work together with Microsoft Azure to strengthen and enhance our platform, we are building an outstanding example of how well a SaaS product is able to perform in an Azure context.
You can benefit from the large scale of our platform solutions for your business by getting insights on big data, accessing your unlimited cloud storage anytime and anywhere, and having your data secured. All offered by Reviso in partnership with Microsoft Azure.
If you wish to read more about our partnership, please see the full brief here.
More information on the features of our accounting platform can be found here: https://www.reviso.com/ To know more about open and flexible API for developers look here: https://www.reviso.com/developer