Dear spreadsheet lover,
Getting live accounting data from Reviso into a spreadsheet can now be achieved by using fomulas. With full access to the accounting data in Reviso the possibilities are limitless.
I am not a fan of manual export/import or copy/pasting of data. It's time consuming and error prone.


Also, standard reports in accounting systems often have limitations as they need to suit many generic use cases. To compensate you end up manually processing or aggregating larger amounts of data than necessary, typically in a spreadsheet, because you need just one number. All this heavy lifting we have now done for you and made it available in formulas.
I guess we all look at automation of processes to save us time, and, to limit personal errors. However, automation often means integration of software and because we are not software developers it is out of our hands. Well, I am lucky enough to have access to Reviso's developers. At our last Hackathon we got a team together around this idea:
"Easy, programmable access to accounting data should be directly in the hands of the professional accountant and bookkeeper. They understand spreadsheets, not our (very nice btw) REST API."



We did it! (Well, they did. I am not a developer). And we now give it to you.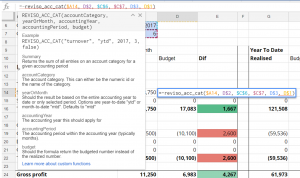 Please enjoy this fully functioning beta as a taster of more to come. Please, build some reports and see how easily you update the numbers to a new month by changing a single cell. Your precious time can be used analyzing numbers and improving the reports, not moving data from the accounting system into the report.
We have tons of ideas for the evolution of this new little baby, but we really want feedback from all of you as we move forward. The potential is incredible. My excitement level is quite high.
So, we did not actually win the hackathon. Standards are high, I must say. Another team will surely promote the winning bid at some point, but at least we are beating them to market.
Find the Google Sheets Add-On here or sign up for one of my enthusiastic presentations at one of the published webinars by getting in touch with our support at help@www.reviso.com and check out the documents in our help.
Many happy thoughts,
David Schjelde
CFO, Reviso