When using Reviso, you must create a list of suppliers and/or creditors in order to register all your expenses.
Each supplier or creditor is then linked to a supplier group, where all accounting information regarding the suppliers of that group, is registered.
How to create a supplier?
Please have a look at the following video tutorial on our YouTube channel.
The supplier list can be found by clicking on Accounting > Suppliers you will then see the following:

Click on the New supplier.
Fill in the blanks with information of your supplier.
Tab with General information: fill in the personal data of your supplier as well as the terms of payment. If you define the group of suppliers right away, it will be much easier and faster to enter the invoices later on.
Tab with references and payments:  here you can define what you paid your supplier by a bank transfer. Regarding other forms of payment, you can select None of the options.
3. Only the fields marked with asterisks are required, the rest is optional. Once you complete the necessary information, click on Save.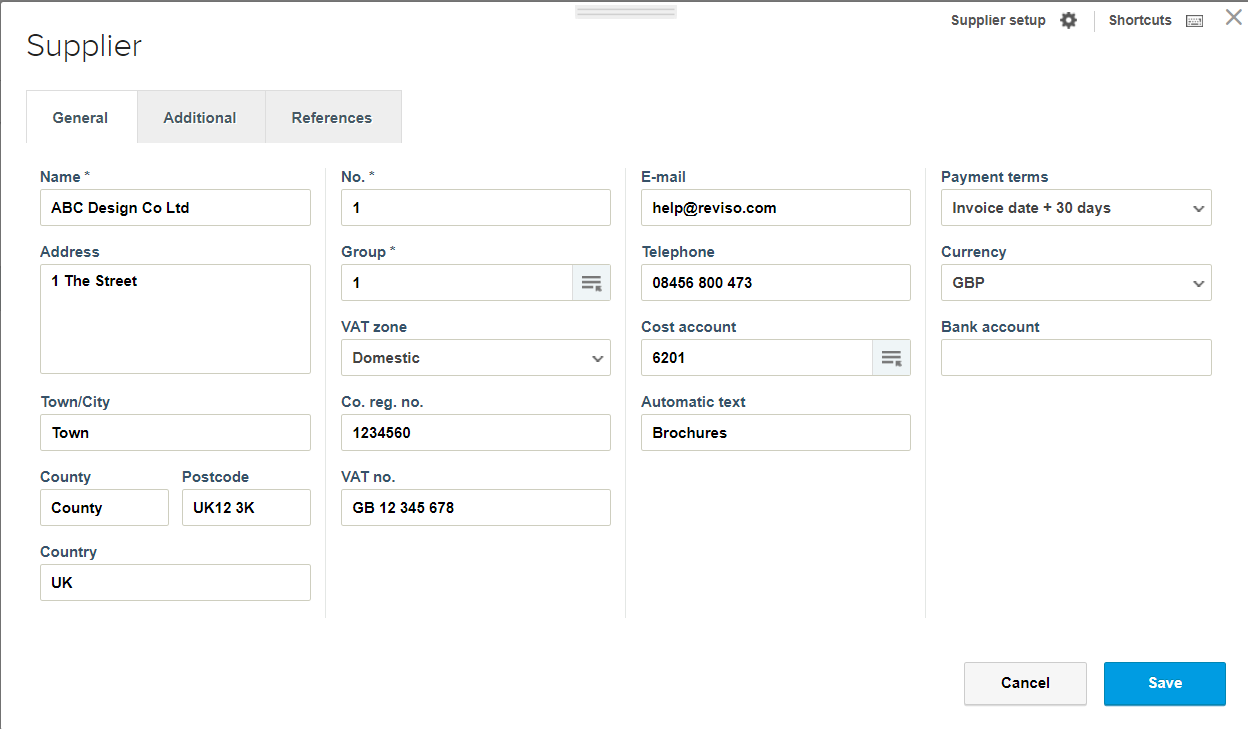 Whenever you need to create a new supplier or make any changes to the already existing ones, go to the section of Suppliers again.
Supplier accounts
Each one of your suppliers will be linked to a group of suppliers, where all information regarding the suppliers of that group, is registered.
Each group of suppliers has its own account number. It is also possible to assign an account number to your suppliers individually. You can use any numbering you want, either 1, 2, 3, etc. or 1000, 1001, 1002, etc.
Example: If you have 5 domestic suppliers, they will be linked to a domestic group of suppliers, which is defined under account 2100. Whenever you register an invoice with any of these 5 suppliers, it will be recorded under that account (2100).
Do not worry that all the suppliers are grouped together. Reviso also analyzes the data by the list of suppliers, where you are able to see the data of each individual supplier as well as the data of your major suppliers. This way greatly simplifies your accounting, since you do not have to create hundreds of accounts for each supplier, but with 4 or 5 accounts, you will manage hundreds of customers.
If you have any further questions, please do not hesitate to contact us. We will be happy to help you.