When importing data to Reviso, they must be saved as Excel files or CSV (comma delimited) format. This format is available in all versions of Excel, so it is simple.
When you start with Reviso coming from another system, the first entry you have to create is the opening balance. It can be created manually, or through an import.

You can watch one of our video presentations below. However, we recommend you to attend a live session since you can ask questions at all times and the functions of the program will become clearer.
How to import accounting years (opening balances)
STEP 1 – Creating accounting years
You have to create two accounting years. The first accounting year is starting from the date you subscribe to Reviso. The second accounting year shall directly precede the new accounting year.

In case you want to import your opening balance from an Excel file, follow the steps below.

STEP 2 – Data to be imported from Excel
As indicated above, the opening balance should be in an Excel file. The format of your Excel and the order of columns needs to follow certain layout.

Have a look at at the following example, which you can use as a template. Go to Settings > All Settings > Company > Import Data.

Click on Entries > See sample file.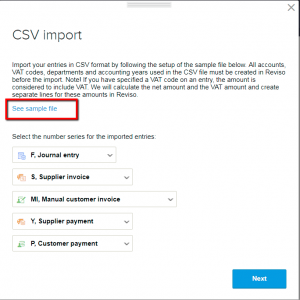 An Excel file in CSV format is downloaded. You can use it as a template for the import of your data. You can delete all the rows of this file except the first one, which includes titles. This template will help you to create your own file.

You can copy and paste your data into this new file, so the order of columns according to the specifications is maintained. However, you do not have to fill in all columns. Have a look at this example:

Things to keep in mind:
The date of your imported accounting year will be the last day of the previous year. In our example, it is on 12/31/2016 and we will start using Reviso in 2017.

As shown in this example, customer and supplier balances will be grouped into a single account based on your choices such as 1100 for all customer balances and account 2100 for supplier balances.

Reviso assigns to listed customers and suppliers specific numbers, so they do not appear broken down in the accounting plan. Subsequently, you will distribute the accounts to the specific customers and suppliers to keep the individual information of each one of them.



STEP 3 – Importing the file to Reviso
Once your file is ready and loaded with data, you have to once again access the same window, where you downloaded the sample file (as mentioned in step 2). Just click on Next.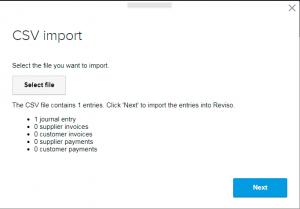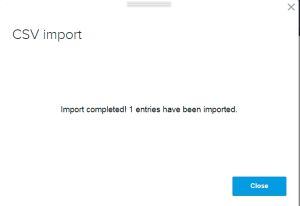 Now we can see the imported data under the Finance tab.

STEP 4 – Distribution of customer and supplier balances
This allocation of balances can be done either manually or by import. The following text focuses on distribution by import.

Using the same Excel template that you downloaded in step 2, you can create the balance distribution file. It is important, before even importing this file, to already have your list of customers and suppliers included within Reviso.

The file would look like this:
* NOTE: Press Ctrl + on your keyboard to enlarge the image. Then press Ctrl – to return to the previous screen display.

Things to keep in mind:

Each entry entails two lines, which are indicated with the same reference.
The date used in this example is the last day of the previous year (the last day before starting with Reviso), concretely 12/31/2016.
Columns regarding customers and suppliers must have the same number as indicated in your Reviso list of customers and suppliers.
Lines with the numbers of customers and suppliers must also include the date of the invoice, expiration date and invoice number. However, the data are not relevant in this case, since you are importing distribution of balances, not invoices.

Therefore, use the same date, 12/31/2016 in all fields and as the invoice number put 0.
Once the file is ready and loaded with data, you have to access the same window, as in the previous step and click Next.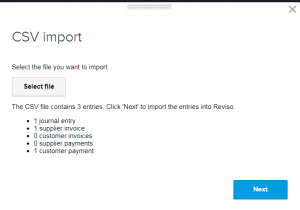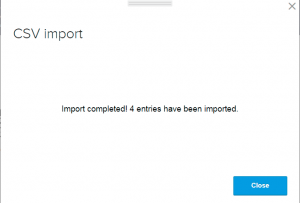 Now you can find all the entries under Sales and Supplier tabs. Additionally, the balances are individually distributed between customers and suppliers.



STEP 5 – Closing accounting year
When you import your entries, they are saved, pending to be booked.

Before booking them, we recommend you to check that the data is correct. You can verify your balance as well as your major customers and suppliers through reports.

Once you are sure all the information is correct, go back to your saved entries and book them. Then go to the Settings > All Settings > Finances > Accounting years and close the accounting year, where you imported the data (in our example, it is accounting the year 2016).

Once you close your accounting year, Reviso will automatically create the opening balance on January 1, 2017. You can continue working and introducing your operations.
Do you want to know more? Do not hesitate to contact us.