Once you have activated the Subscription module from Settings > all settings > Subscriptions > Add-on modules you will need to create your various subscriptions that you wish to charge your clients with.
Go to Sales > Invoicing > Subscription > Click on New Subscription, here you can enter the details of your subscription, name, interval etc and save….

Now you need to link a product to your subscription, click on the far right icon highlighted below, then select the product/products you wish to charge….

Next step is to link your customers to a subscription, this is achieved by clicking on the far right icon highlighted….

Enter the customers start date for example, if the customer has come onboard in May and you're charging them for an annual subscription then you would enter the start date 01.05.19 and the end date 31.12.19. You can add a 'special price' discount, department, project etc but this is not necessary if you don't have these setup….

You are now ready to run your Subscriptions, go back to Invoicing > Subscriptions > click on Subscription batch run, select new invoice > select the number series > enter the date you wish to capture the subscription from and the invoice date which is normally today's date. You can run all subscriptions together or separately. Also, heading, text etc can be added, when ready click ok…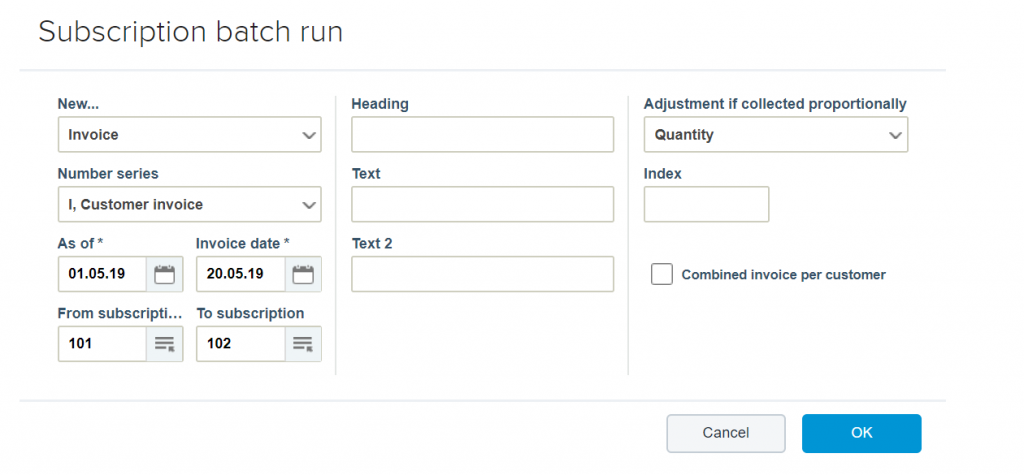 Your draft invoice will then appear in the under the menu option Current invoices. Here you can preview the invoice prior to emailing out to the client, making sure all the data is correct. if you have made a mistake with any of the data within the invoice you can delete the invoice/invoices, and re-run the subscription batch again. The subscriptions are not updated until the invoice has been booked/posted to the system. 

Should you need any assistance with this module please don't hesitate to contact our support team through the online chat or you can call us on 08456 800 473.